Although countries such as Germany or Belgium are often the benchmarks in this area, in Spain we have always been very keen on beer too. Already in Roman times we have reference to a drink called "celia" or "ceria" that the inhabitants of Betica, present-day Andalusia, used to drink in honor of the goddess Ceres. But, did you know that it was in Barcelona, at the Cova Can Sadurní in Begues, where the oldest vestiges of beer in Europe were found? It was in ceramic vessels that contained traces of beer fermentation and date back to the Neolithic period, between 3800-3500 BC.
Thus, it is not surprising, that even if it is a trend of growing international interest, Barcelona is ideal for interest in craft beers to boom. This, coupled with our gastronomic culture of quality, flexibility and experimentation, have resulted in a wide variety of beers that are a real experience for the senses and also the proliferation of specialized establishments where you can taste them.
Today, from Hostemplo we want to propose a very special gastronomic route: 5 breweries where you can enjoy the most authentic craft beer.
If, on the other hand, you are rather a vermouth lover, remember that we also have a route prepared for you in this article.
Let's go for some beers! Are you joining us?
BREWDOG BARCELONA
Let's start our walk through the Eixample. BrewDog Barcelona is the 1st official BrewDog brewery in Spain. This Scottish brewer, the largest brand of craft beer in Europe, produces about 120,000 bottles per month, which it has been exporting worldwide since 2007. In addition to a relaxed and pleasant atmosphere, you will find the brand's base-end beers, along with all the special and limited editions… even some exclusive beers that can only be found in BrewDog Barcelona! They also offer the best selection of national and international craft beers. BrewDog Barcelona also has a complete food menu available to accompany your beers. It is ideal to go with friends especially on weekends.
Where? 69, Casanova Street
LA CERVECITA NUESTRA DE CADA DÍA
If you prefer to enjoy a quality craft beer near the sea, we recommend La cervecita nuestra de cada día (Our Daily Beer). You will find it on Llull Street, going down the Rambla del Poblenou towards the beach of Mar Bella. This bodega offers over 200 craft beers and has 17 rotary taps. A perfect place to enjoy a quiet aperitif accompanied by a tasty beer. If among so many options you don't know which one to choose, let yourself be advised by its friendly staff. And if you're looking forward to trying more, you can always buy them to take home!
Where? 184, Llull Street
LA BEATA
This brewery, located in the heart of the district of Gracia, is the heiress of the well-known La Beata bodega, a shop of domestic and imported beers that opened in April 2016 and whose establishment in the street that gives it its name closed its doors just a month ago.
In La Beata they do not cease in their efforts to satisfy all palates, even the most demanding; that's why they expand their assortment every week to continue offering in their online store a wide variety of Catalan beers mostly, along with others from the rest of the Iberian Peninsula, Central Europe or Scandinavia.
But it is with no doubt from the 9 taps of the cozy bar in Gracia where you can taste them best, in a close atmosphere full of authenticity. It is the ideal place to taste beers that are not easily found. 
Where? 16, Jesús Street
HOMO SIBARIS BREWERY
We now move to another of the most traditional neighborhoods in Barcelona: Sants. There, at Osca Square, we find one of the pioneers in the sale of craft and natural beers: the Homo Sibaris brewery. Like the previous ones, they also have several taps, regularly changing the types of beer available, including, among many others, their own brewing. At its terrace you can enjoy a pleasant aperitif enjoying the sun, pairing the beer that you like the most with one of the cheeses of their wide selection. Also homemade, of course!
Where? 4, Osca Square
LA MÉS PETITA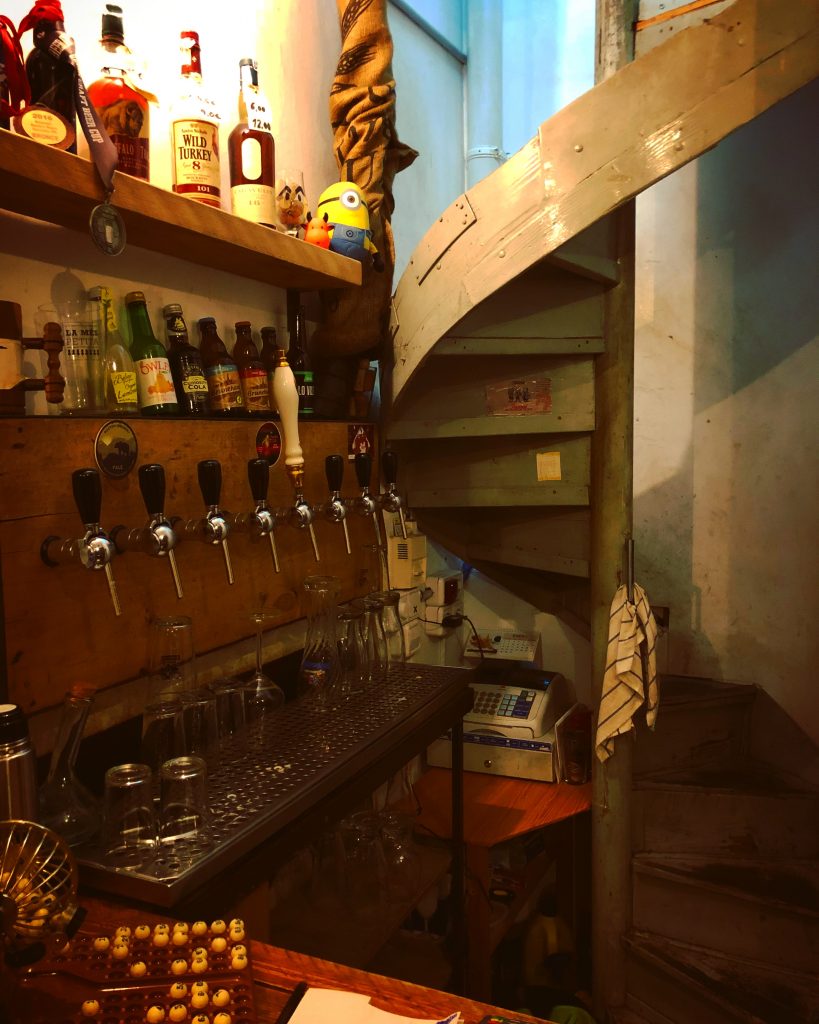 We finish our brewery crawl today in Diputació street, very close to the Las Arenas Shopping Center in Plaza España. As its name suggests, it is probably the smallest brewery in Barcelona; according to the sign displayed next to the bar, with capacity for only 7 people! Its small size makes it also the brewery with the most taps per square meter in the city. A curious and cozy establishment with a careful selection of beers that you can enjoy accompanied by some snacks, or if you prefer so, take them home. In this case, however, you will have to bring your own bottle to have it filled with the beer you like the most!
Where? 30, Diputació Street
After tasting so much craft beer, you may feel like taking a nap, don't you? That's what Hostemplo is for! To welcome you with open arms so that you can rest as if you were home. Plus, if you make your reservation through our website, we give you free breakfast throughout your stay.