Ice cream is to summer gastronomy like the bikini to fashion, don't you think? And our cosmopolitan and unique city, is up for the trend of having the best ice cream shops in the  whole world. If you plan to spend part of your summer in the city of Barcelona, discover the best ice cream shops in Barcelona!
Around two years ago we already shared with you a fantastic article about the  Top 5 ice cream shops and although Delacrem y Ochiai 
are still our favorites, there are new ice cream shops that have stolen our hearts. Let's go for a gastronomic walk!
ROCAMBOLESC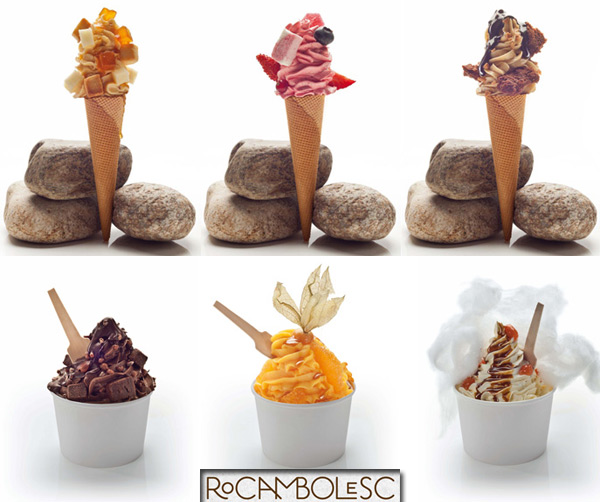 If you're a fan of gastronomy, the last name Roca rings a bell, doesn't it? Actually, the successful brothers of the most renowned Celler as the best restaurant in the world have opened an amazing ice cream shop in the center of Barcelona. It's in no other place than Las Ramblas. Ice cream inspired by the desserts of Celler de Can Roca; it sounds good, doesn't it? They have six flavors with toppings, our recommendation: yogurt with a violet touch and a cloud of sugar on top, simply, irresistible!
Where? La Rambla, 51-59, 08002 Barcelona.
More info.

OBRADOR DELACREM (DELACREM BAKERY)


From the creators of Delacream comes: Obrador Delacrem, actually, Delacrem's second establishment and Massimo Pignata 's new adventure. Here, the incredible Delacrem team offers classic flavors made with seasonal fruits. The Obrador Delacrem offers ice cream, café basics and, the season's novelty: horchata (tiger nut milk). Another product that will for sure be present, hallmark of the place, is the 'affogato': a ball of ice cream inside a cup of latte drowned by an 'espresso'. Come and discover the authentic Italian gelato!
Where? Enric Granados, 15 – 08007 – Barcelona.
More info.
PARALELLO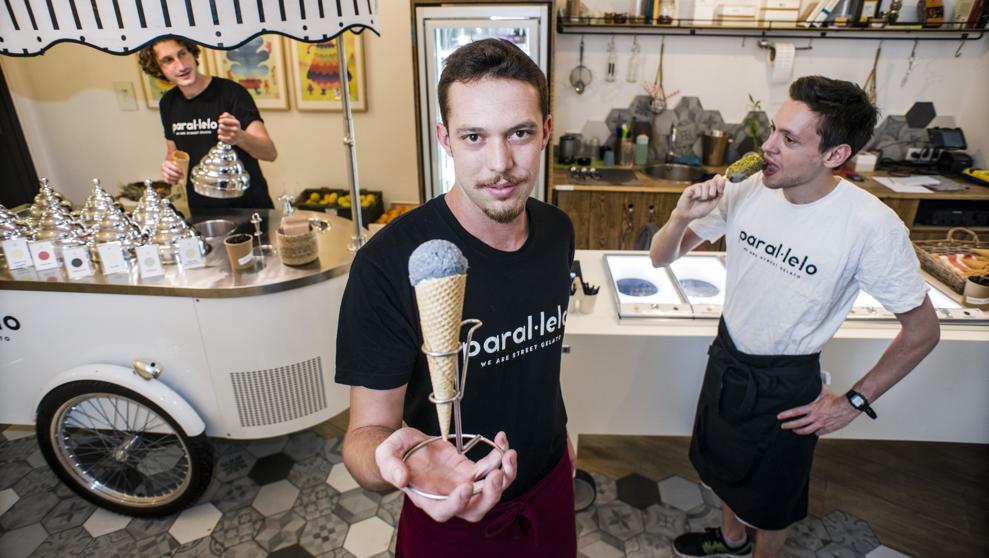 100% artisanal and ethical ice cream from 1,80€. Oh, yes, delicious Italian ice cream for everyone! This team of young brilliant Italians are dedicated in body and soul to produce stunning ice creams such as pineapple with basil, without any preservatives or additives, just fruit and water. In its sorbets, the composition has a 70% fruit. And it's not all sweet what shines, they also have salty ice creams, ideal to go with salads. Stop by at their shop in Gracia you and you'll be amazed.
Where? Carrer de Sèneca, 18, 08006 Barcelona
More info.
COSI DUCI


Pure happiness! Come and try these wonderful Italian ice creams, more specifically Sicilian. In addition to offering a wide range of ice creams, here you will find the mythical 'pozzetti', a type of sorbet infinitely thinner and solid than liquid or slushy smoothies. We recommend you to try pistachio, lemon, pistachio or almond; and of course the chocolate one. You will also be surprised by its delicious and aromatic Sicilian buns, the traditiona Sicilian home breakfast.
Where? Carrer de Pujades, 218, 08005 Barcelona.
More info.
BISCUITER



Does the name ring a bell? Remember the ice cream sandwiches? In June 2014, Bruno Balbás opened a new ice cream shop in the heart of the Ribera. The original idea was to sell ice cream, sandwiches cutting a bar of ice cream, but he finally decided to have about twenty flavors of high quality artisan ice cream, made by an ice cream master from Gava. Our recommendation: Belgian chocolate and Smurf chocolate (yes, whether you're an adult or a child). All ice creams are natural and have no artificial colouring products.
 Where? Carrer de Sant Pere Més Alt, 78, 08003 Barcelona.
More info.
And after a good ice cream, take a good nap! Come and spend your holiday at Hostemplo and we will invite you for breakfast every day of your stay. Book through our web now!