"Eat breakfast like a king, eat like a prince, and dine like a beggar."
The Spanish proverb is very wise, and we are not going to contradict it!
At Hostemplo we know that breakfast is the most important meal of the day: it recharges your energy for the whole day after a peaceful night of restful sleep (or a night of partying and debauchery). And if you have breakfast in a hotel, it tastes even better and you are sure to start the day on the right foot!
Whatever your night, we know that the first thing you think about when you wake up is breakfast. But not just any breakfast is worth it, especially if you are on vacation.
You want to innovate, eat something different from what you usually have for breakfast in your routine day to day: some waffles, some fresh croissants, a good coffee with milk to finish waking up… There is nothing better than waking up in a hotel with breakfast included!
We know that when you are planning your vacations or any stay for work or business reasons, you are always looking for a hotel where you can have breakfast. It really "solves the day" for you, since you start the morning with energy without having to waste time and money looking for a place to have breakfast… If you have breakfast at the hotel, you only have to worry about enjoying the day!
If you stay during your stay in Barcelona at Hostemplo… You're in luck!
By booking with us through our website, you will have breakfast included every day of your stay!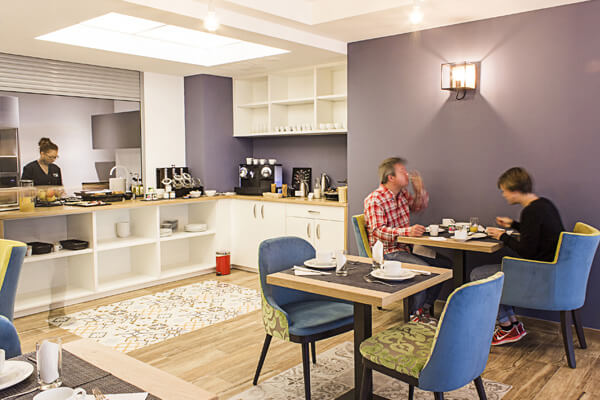 Hotel with breakfast, what more could you ask for?
Are you one of those who needs a coffee in the morning to be able to be a person?
Whether for work, business or because you are on vacation, if you stay in one of our hotels or apartments, you can enjoy a wonderful hotel breakfast in our cozy cafeteria.
To fill your stomach and start the day with energy, we offer you a wide variety of cold cuts, pasta and pastries, types of milk, fruit, etc. A very complete free breakfast buffet for you to squeeze and enjoy your stay to the fullest.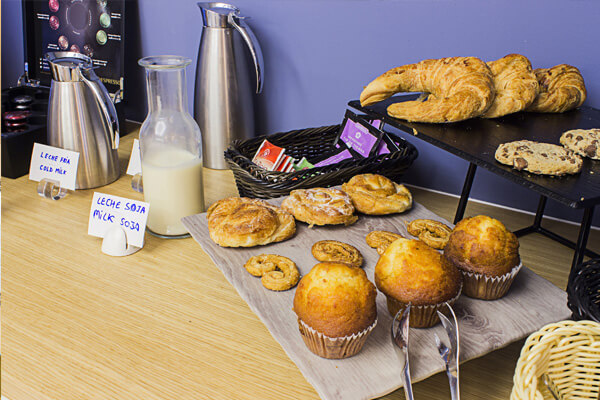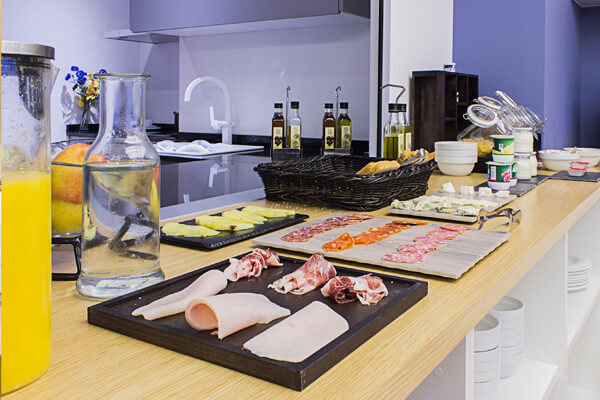 Visit Barcelona with a full stomach
Now that you have a full stomach and are overflowing with energy, it's time to discover the city of Barcelona.
Our Hotels are very well located in the city of Barcelona:
Hostemplo Sagrada Familia is located in the center of Barcelona's Eixample, just one block from the Temple of the Sagrada Familia, created by Gaudí.
Our Boutique Hotel, a cozy hotel with modern, quiet and bright rooms, is located just 200m from the Temple of the Sagrada Familia. Better located impossible!
If, on the other hand, you prefer to stay in an apartment, our Apart-Suites Hostemplo are your best option. They are located in a modernist building, with comfortable and bright rooms, in the heart of Barcelona's Eixample.
As you can see, from any of our Hotels or apartments you can easily move to every corner of Barcelona, ​​such as Paseo de Gracia, where you can visit La Casa Batlló, La Pedrera or the famous Plaza Cataluña.
You can enjoy a walk through the streets of the city, get lost in the Gothic quarter or visit its most emblematic monuments and buildings such as the Temple of the Sagrada Familia. Check their schedules and ticket prices here.
Are you hungry and thirsty after all that walking?
Do not worry!
In this post we recommend 5 breweries where you can taste the best craft beers in Barcelona.
But if you are not much of a beer, in this post we will show you the most authentic places in Barcelona to taste the authentic Vermouth accompanied by a delicious snack.
But remember, start the day on the right foot with a good hotel breakfast
In addition to being able to enjoy a wonderful breakfast, if you stay in any of our hotels or apartments, you will enjoy a unique experience thanks to the modern, bright and quiet facilities that we have. And with the best locations in Barcelona!
Remember that if you book now through our website, you will have breakfast included every day of your stay!
Don't think twice and book now to enjoy a wonderful experience in the city of Barcelona.