At Hostemplo, we love Barcelona! Nobody would tell, right?
Its streets, its people, its gastronomy … Its climate! It is one of the favorite places for tourists to come on vacation at any time of the year.
But we are not going to lie to you, summer is one of the best seasons of the year to visit this beautiful city. It is hot, yes, but that does not prevent you from being able to walk through its streets during the day, to be able to have something cold on a terrace or eat outdoors. You can enjoy the beach, the mountains and all the wonderful monuments, museums, cultural halls and emblematic buildings that it has without worrying too much about the heat.
It is a wonder!
If you want a small guide of what to visit in Barcelona in a few days, we leave you here a post on our blog with the most essential places that you must visit before leaving.
And, to complete the day, do not miss this compilation of the most authentic places to make vermouth and have a bite in Barcelona. You will love them!
But where is it better to stay?
As you well know, Barcelona is a very big city.
It is true that it is very well connected by public transport (buses, trains, metro …), but everybody is always looking for a well-located place that is fairly close to everything and that allows you to visit the most emblematic places by walking through its beautiful streets, taking the opportunity to discover the city by getting lost in them. Ah! And let's not forget the views: if the room has beautiful views of the city or a monument, it is a plus.
But you should not leave behind the comfort and benefits that can be offered in your accommodation, right?
You are looking for a nice, cozy, clean place, where you are treated well and you feel cared for… We are looking for and want a complete and unforgettable experience!
Well, if you are looking for all of this, we have the perfect solution for you!
If what you want is a charming hotel with modern, bright and very quiet rooms, we can only recommend our beautiful Hotel Boutique located just 200m from the Sagrada Familia Temple. Better located impossible!
Our Hotel Boutique is a small hotel, with few rooms, but very well cared for, decorated and very cozy. All of them are exterior, some with a small balcony and others with a terrace.
It is a perfect place to observe the city and rest while admiring the beautiful views of the Sagrada Familia Temple.
But we have an even better surprise than everything we have already told you… If you want to enjoy 100% of an incredible experience in the city of Barcelona, ​​you cannot miss our Deluxe room with hydromassage bathtub. What better way to relax after a long day visiting and kicking the city than in a bathtub like that!
We can't think of another!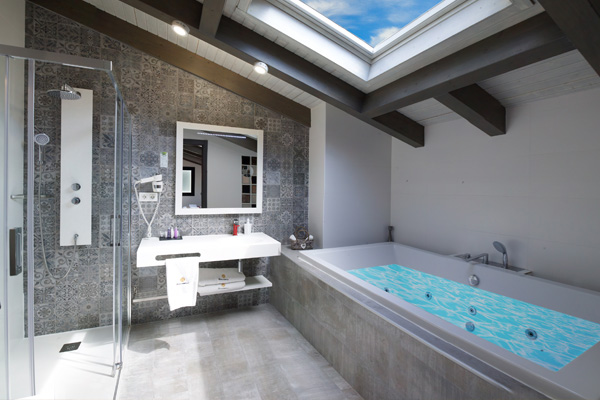 A safe hotel to rest
You can be calm because we care a lot about the disinfection and care of all the spaces in our hotel, and much more in these times.
In addition, the fact of having few rooms, which are equipped with air purifiers, will allow you to stay and rest in a very quiet, cozy place with total security and cleanliness, without much noise from people.
If, on the other hand, you are one of the people who prefers to stay in an apartment, don't worry, we have what you are looking for. Just 3 minutes walk from the Sagrada Familia Temple and located in the heart of Barcelona's Eixample, we offer you Apart-Suites Hostemplo: exclusive apartments and suites for you to live a unique experience in the city of Barcelona.
The best views, the best location
As we have already mentioned, our Boutique Hotel is located just 200m from the Sagrada Familia Temple, which has already opened its doors!
You can visit this beautiful Basilica and fall in love with its architecture from Monday to Thursday from 9:00 a.m. to 3:00 p.m. and from Friday to Sunday from 9:00 a.m. to 6:00 p.m. You have all the information about the schedule and the sale of tickets for the Sagrada Familia Temple here.
In addition, you cannot miss a visit to Casa Batlló, which is just 10 minutes walk from our Hotel Boutique and arrives loaded with news!
You will be attended and cared for 24 hours a day
All the hotel staff are at your disposal for whatever you need: we have a 24-hour reception and a cozy cafeteria where we serve a delicious breakfast.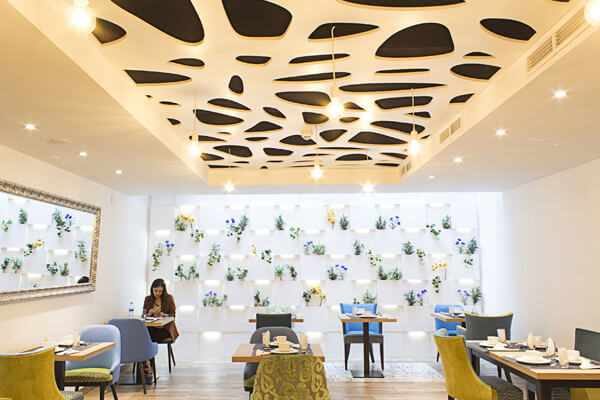 And speaking of breakfast… If you book now through our website, you will have breakfast included every day of your stay!
Don't think twice and enjoy a well-deserved vacation by staying in one of our rooms or apartments at Hostemplo and wake up with the best views of the Sagrada Familia Temple.