A promise is a promise, and we announced it to you a few days ago in our last post… Here it is: we bring you the best program with family plans for Christmas in Barcelona. If you are visiting Barcelona at Christmas with children, this is your guide! What are you waiting for? Save this article to your favorites and you won't get short of ideas. Kids, welcome to Barcelona!
STAY AT HOSTEMPLO
First of all… did you know that staying at Hostemplo is the best choice for your family trip? We recommend you to have a look at our apartments, the perfect place to be in your family home in Barcelona, and overlooking the Sagrada Familia! The Hostemplo Apart-Suites take up two buildings, one of them modernist, fully renovated, and another new building with an exclusive design. Our apartments are from 35sqm to 70sqm large and all of them have a kitchen and can accommodate up to 4 people.
Need more information? Check all the options and remember that if you book through our website, you will have free breakfast throughout your stay!
CHRISTMAS DOWNTOWN – A THOUSAND ACTIVITIES AT PLAZA CATALUÑA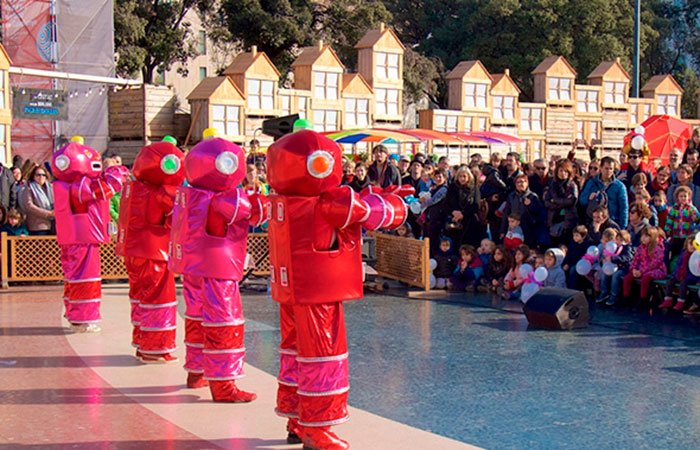 Experience the magic of Christmas in the city center! For the second year in a row, the City Council of Barcelona offers families a series of free activities designed for the ones who have the starring role at Christmas. Here are some of our recommendations:
Stardust (several days, check program below).
From 18:00h to 21:00h
As evening falls, magic comes to Plaça Catalunya. It's the hour of the forest and the creatures that live there. Cock your ear and you'll be able to hear them. When it gets dark, a sound show based on music, vocals and sound effects will evoke life in the forest.
Els Nadalòvitx (several days, check program below).A very international musical quartet will invite us to join in with their short Christmas concerts. Els Nadalòvitx know lots of languages so they can sing carols from all around the world in their original language.
Responsible consumption Fair. (From 20th to 31st December at the square as well). Around seventy entities linked to responsible consumption and the social and solidarity economy present their services and products and a wide range of activities to help us teach our children to live in a less consumerist and more sustainable environment.
Thinking of growing the family? Adopt! (20th and 22nd December). Children love animals, but they should be taught that they are NOT a gift, that they are living being and that from the moment they come home they are one more member of the family. That's why, this Christmas, if you are thinking about growing the family with a dog or cat, ADOPT! Barcelona makes it easy for you.
Activities will begin on 20th December and end on 31st December. The opening hours of the activities will be from 11 to 21h. You can check the activities every day in the dedicated space on the web for these activities.
WHAT IS THE TIÓ? MEET THE BIGGEST NADAL TIÓ IN BARCELONA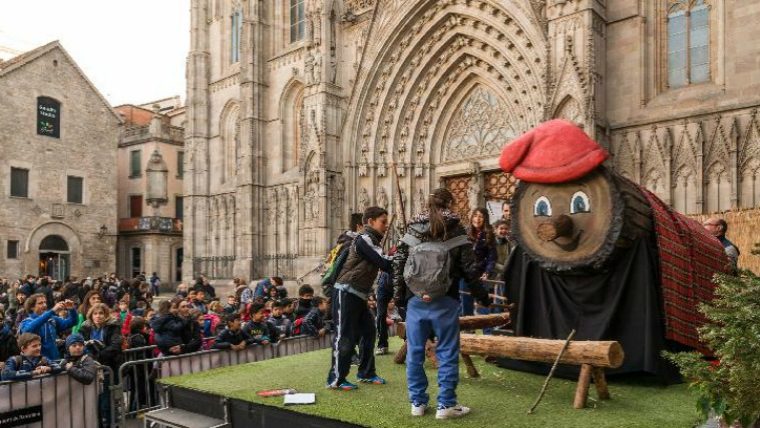 The typical Catalan Nadal Tió, aka Christmas log in Spanish, is a very popular element of Catalan mythology. It is very peculiar: it arrives about 1st December and you have to leave him food every night and cover him with a blanket so that it does not get cold. On Christmas Eve, the children of the house hit him with a stick as they sing, so that he poops (literally) gifts and sweets under the blanket on 24th December.
What do you think? From 30th November  to 18th December  you may meet & greet this peculiar character at Saint Llúcia Fair. It is said that it's already stuffed with food and it will soon poop gifts for all the children who are visiting it.
More information.
FAMILY PLANS PER DISTRICT
Would you like to have a customized guide per district? We have it too! And so, dependening on where you are, you may join the best plans of the district. Check it out!
LA CABALGATA DE REYES Y SU FÁBRICA DE REGALOS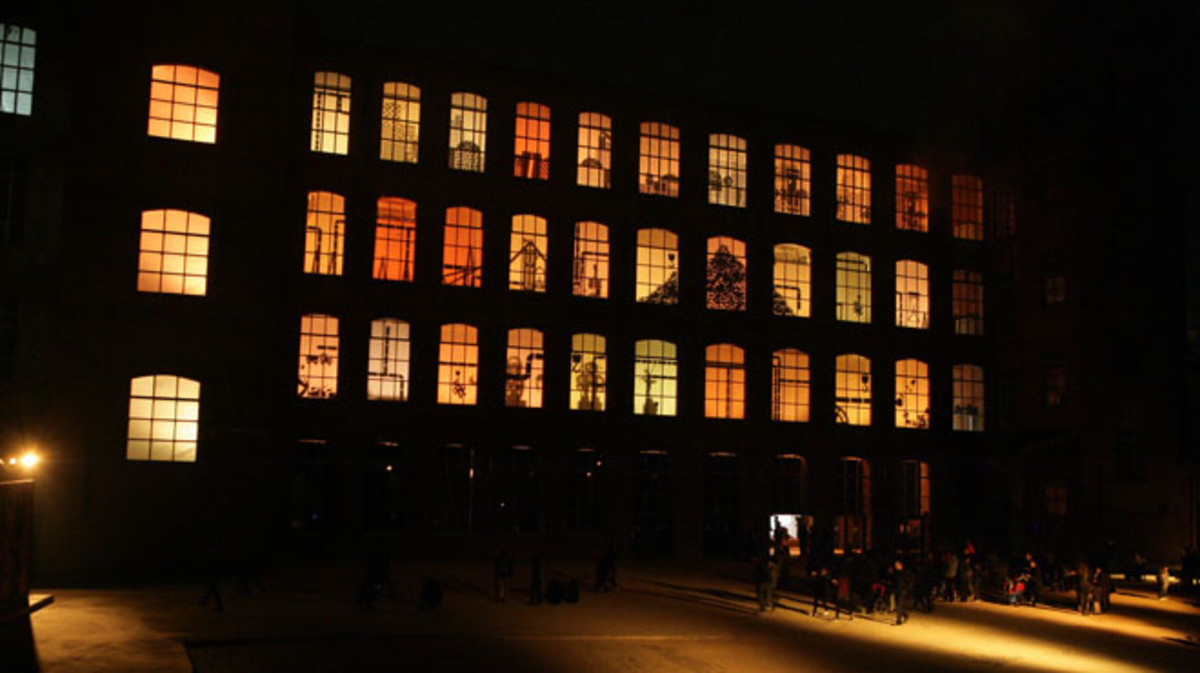 Did you know that the Three Wise Kings have a gifts factory in Barcelona? A must visit with no doubts! From 27th December to 4th January (except for 31st December and 1st January) the factory will be open at the Fabra I Coats venue, in Sant Andreu. All toys made in the factory are elaborated from very diverse magic pieces that fit together thanks to the children's imagination and playing mood.
Follow the Parade!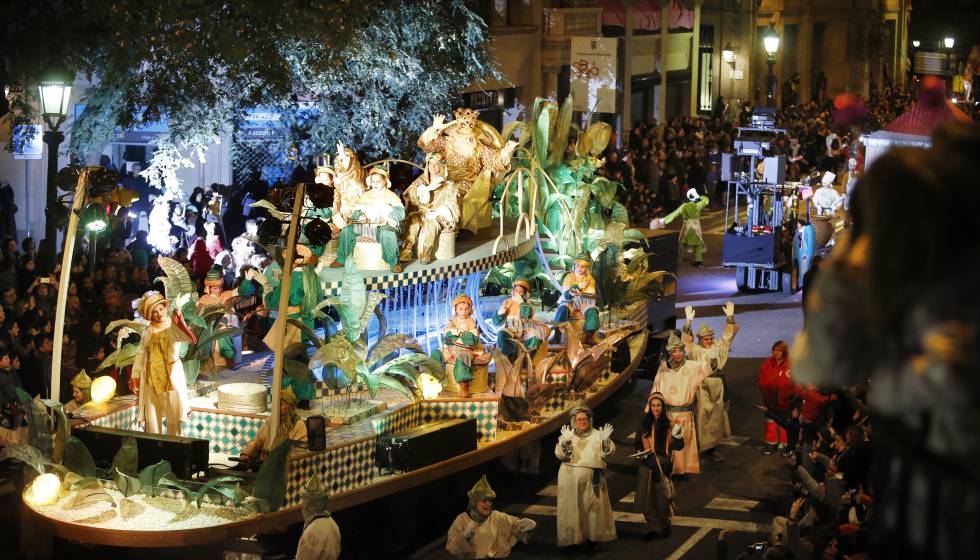 Like every year, on 5th January the Three Wise Kings arrive in Barcelona accompanied by their traditional entourage of magical creatures and in spectacular floats… Follow the Parade in real time!
Where does the parade start this year? Marquès de l'Argentera Avenue.
When? 5th January, at 18h.
Haven't you written your letter to Their Majesties yet? Write your letter to the Three Kings! This year they've moved with the times and you may send your letter online and save paper to be more sustainable.
THE CITY OF DREAMS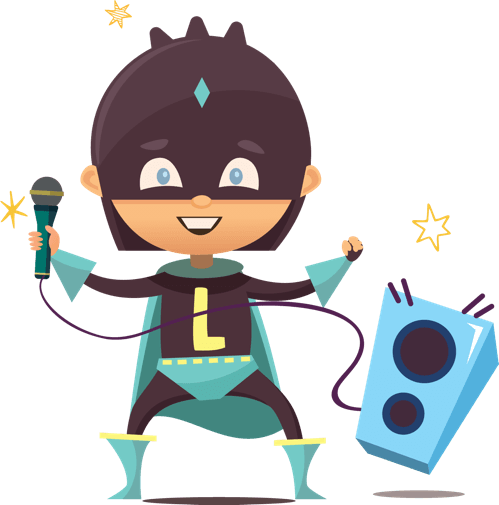 Formerly known as El Saló de la Infáncia, this is the most fun festival for the little ones in Barcelona. Pavilions of activities and games exclusively designed and created for them. The City of Dreams is back with a new edition full of quality educational content for children from 0 to 12 years old and their companions. Ready to have a great family time? 
FURTHER PLANS?
And if you still want more things to do in Barcelona this Christmas, we leave you with the super complete Christmas in Barcelona guide that Time Out have prepared and that, we know, will be kept updated.
Here you will find plans for everyone!
Haven't booked your accommodation in Barcelona yet? What are you waiting for? Experience the magic of Christmas with us!
HAPPY HOLIDAYS TO ALL OF YOU!