Sant Jordi is round the corner. Following the tradition, thousands of roses will be delivered and thousands of books will be given away. We've already talked about Catalan Valentine's in our blog, check the post if you want to find out more about the legend, and if you already know about it, pay attention, as we bring you some news! Ready? Books and roses stands, people everywhere, plenty of love and more activities for this Sant Jordi's day.
SANT JORDI 2018 PROGRAM:
NO MONEY, NO PROBLEM
En esta Diada de Sant Jordi 2018 se celebra por octavo año consecutivo '1010 ways to buy without money' en Barcelona y otras ciudad del mundo. Se trata de una manera de vender libros sin dinero; un intercambio, como: donar sangre, llamar a tu madre y decirle que la quieres o repartir 20 abrazos, por poner unos ejemplos. Los libros a la venta son donaciones de particulares, a los que se unen editoriales, librerías y autores.
More info? 1010 ways to buy without money 2018
MUSIC PLEASE

MUSIC PLEASE
As every year, Sant Jordi's musical note will take place at the Antiga Fàbrica de Estrella Damm with the Musical Sant Jordi classic. This year, concerts, CDs and books signings, book markets, roses and vinyl records and many other surprises will be there for us. The concerts will take place between 11:30 and 22:00 spread in four different stages. Want to go? Check Musical Sant Jordi 2018 Program here. A great chance to know local artists!
More information? Sant Jordi Musical 2018
WALK AROUND THE CITY, THE MUST-VISIT AREAS!
People walking at Sant Jordi – Photo by desenfokados
Walk up the Ramblas, Paseo de Gracia and Rambla de Cataluña. Yes, it will be crowded. You'll hardly be able to walk and look around with calm. It is part of the experience, though. Let your self go with the waves of excited people walking on the streets, carrying their books and roses, stopping to enjoy the good weather and the celebration itself. Sant Jordi is not a bank holiday but you would never tell. There are so many people on the streets and such a magical atmosphere that you will be fascinated. Wander around, take your time and don't stress. If you want to enjoy a quieter Sant Jordi, all you have to do is get out of the city center. Or live the experience in any other Catalan town. No matter where you go, you'll love it for sure.
DID YOU KNOW THAT BARCELONA'S CITY HALL CAN ONLY BE VISITED ON SANT JORDI'S DAY?
Attention! This is something that only happens on Sant Jordi's day! From 10:00 to 20:00 h Barcelona's City Hall starts its open day so that we can visit the Black Stairs, the Good Advice Chapel, the Chronicle Room, the Good Govern Room, the Work Room, the major's office, Carles Pi y Sunyer Room, m Room, Sea's Consulate Room, Tàpies Room, Honor's office, Carles III Room, The City Room, the Gothic Gallery and the Honor Stairs; a tour enlivened by several historical characters. Interesting, isn't it?
WHERE TO EAT OR DINE ON SANT JORDI?
If you are visiting Barcelona on such an special day, we bring you some recommendations to eat or dine in the city center. Smart and local, three proposals you will love.

Almond coulant – Dessert at Teòric Taverna Gastronòmica
Uma: 5 stars out of 5 on Tripadvisor. What else can we say? Try it! More information here.
Viana: delicious traditional cuisine and attention to details. More infomation here.
Teòric Taverna Gastronòmica: if you like surprises, let yourself be taken care of with their surprise menu! More information here
GET YOUR FAVORITE WRITER'S AUTHOGRAPH: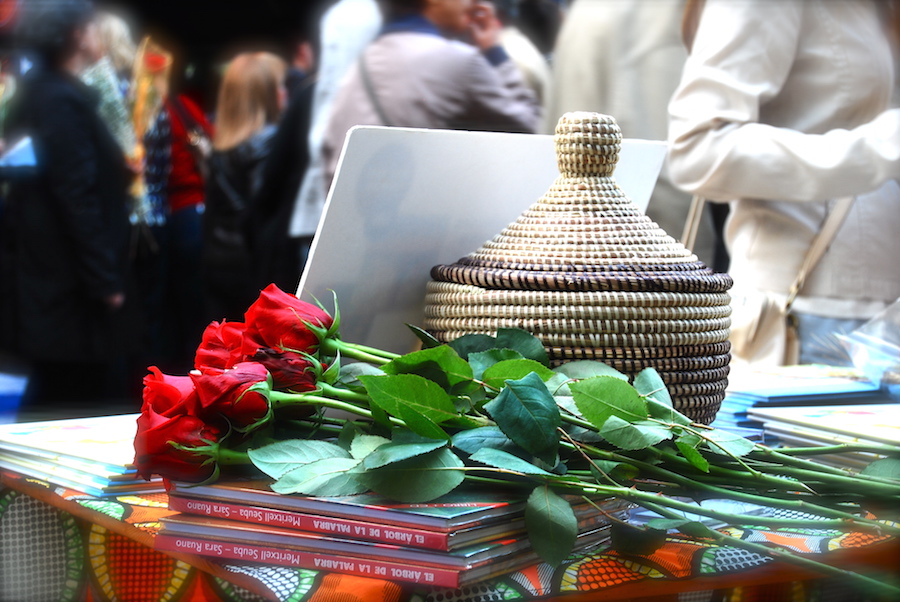 Detail of Sant Jordi stand – Photo Desenfokados
Is it international or local? No matter who it is, every 23rd Abril Barcelona gathers hundreds of writers to sign their books and novels. You may need to queue, but if you arrive a bit in advance, you'll get it for sure. Plus, most writers go on a stand and bookshop crawl around the city. So you know, either if you like bestsellers or not, we are sure your favorite author will be around; here you have the signing schedule for Sant Jordi! Just the final touch for a perfect culture evening in Barcelona!
AND REMEMBER, WITH HOSTEMPLO BREAKFAST INCLUDED, DURING YOUR WHOLE STAY!
Our breakfast buffet– Photo Hostemplo
Start the day as a king at Hostemplo! Our goal: make you feel home. So you know, you can now book your next stay through our web!