La Mercè 2018 has arrived. Every year, the citizens of Barcelona celebrate the biggest festival of the city in honor of the city's saint, La Mercè. Today, at Hostemplo, we share with you the ultimate guide so that you don't miss any of the main activities. Pay attention!
PROGRAM TO TAKE INTO ACCOUNT
Mark it on your calendar! La Mercè festival is from 21st (Friday) to 24th (Monday) September this year. So, the main events will take place during the weekend and these are the hotspots to be taken into account:
STRONG WOMEN'S PROMINENCE
Thanks to Barcelona's major Ada Colau,there is a growing gender sensitivity and a higher women's empowerment in Barcelona. There have already been "zero tolerance to sexism" brigades at the various neighborhoods festivals. La Mercè this year has a marked feminist accent. A clear proof is that Leticia Dolera, actress, scriptwriter and film director, will be the festival proclaimer at the Cent Room at the City Hall. Not to be missed!
The noticeable women's presence is also present in the festival poster, created by Sònia Pulido. The illustrator, from Barcelona, has a degree in Fine Arts and has worked for publications such as Rockdelux, El País, The New Yorker, The New York Times or The Wall Street Journal. Plus, she has published illustrated books like Caza de Conejos (Rabbit hunt) or Duelo de caracoles (Snail duel).
Apart from these two leading roles, the cultural schedule is plenty of female artists, this year more than ever!
THE MUSIC, THE MAIN GUEST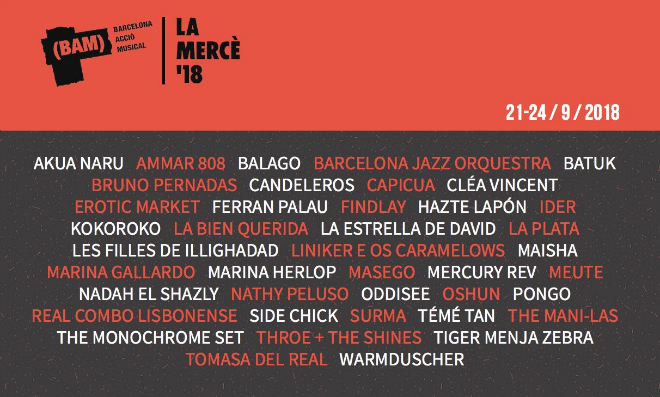 Like every year, the BAM, and the Mercè Música will fill the city with music. What do you like better, indie or more conventional music? BAM is alternative and fresh. Mercè music is more traditional.
Mercury Rev, The Monochrome Set, Oddisee, La Bien Querida and Nathy Peluso are some of the proposals to be highlighted at BAM. Seun Kuti, El Gusto and Dr. Calypso's farewell concert are the highlights of Mercè Music.
Portugal will be present both at BAM and at Mercè Music, having Lisbon as guest city. During the festival, Barcelona will be full of rhythms from Lisbon with The Fado Evening of Mercè Music, where we will listen to Cuca Roseta and Camané. On the other hand, BAM brings proposals such as Pongo, Real Combo Lisbonense and Throes + The Shine as well as Portugal Alive's second edition, with Surma, Bruno Pernadas and Capicua performing.
You can check all the details of BAM and Mercè Music on la Mercè website.
FAMILY ACTIVITIES

There will be music for the whole family and all type of activities at Paseo Lluís Companys, back on the Mercè program with a varied schedule and music as a background (or with a prominent role). We may listen from Podremos Basket Beat to Koers, Joan Garriga and Madjid Fahem, Llibert Fortuny, Esperit! or Landry el Rumbero. Dani Nel·lo y Flamingo Tours will also perform on this stage, at night.
Check also the official agenda and find out activities to attend with children and more traditional activities.
And, after so much party, you will need a good rest. So you know: Book your room atHostemplo through our web and you will get free breakfast during your whole stay! What else?