Do you fancy horror stories and costume parties? If you're spending Halloween in Barcelona, you'll see that the celebrations are quite different from the traditional ones. Today, we bring you a few plans to have fun on 31st October, as you read it! And, considering the weather we have, we also bring plans to stay in at one of our rooms, suites or apartments! Keep reading, you'll find the best Halloween activities in Barcelona in this article.


There are many countries celebrating Halloween today, like the Anglo-Saxon ones. People dress up on the night of 31st October, also known as the night of witches. However, this is not the most common thing in Catalonia; here, we celebrate the popular Castanyada (roasting and eating chestnuts). For those keen on horror and terrifying costumes, there's no reason to worry: there are all kind of choices!
The Castanyada is a celebration with a Christian origin that takes place every 1st November, All Saints' Day. It occurs on the night of 31st October. The following day, 1st November, people usually go to the cemetery to visit their beloved that already passed away.
Cake shops and bakeries make delicious panellets with various flavors and they can also be purchased at Chestnut street stalls , where you can buy ready-cooked chestnuts and sweet potatoes. We do recommend you to walk through the city and have a look at the stores' windows; let us warn you: you'll be tempted and will probably end up getting a few panellets!

ARE YOU UP FOR A THRILLING NIGHT IN BARCELONA? HERE WE BRING YOU SOME PROPOSALS:
1. Barcelona's Zombie's walk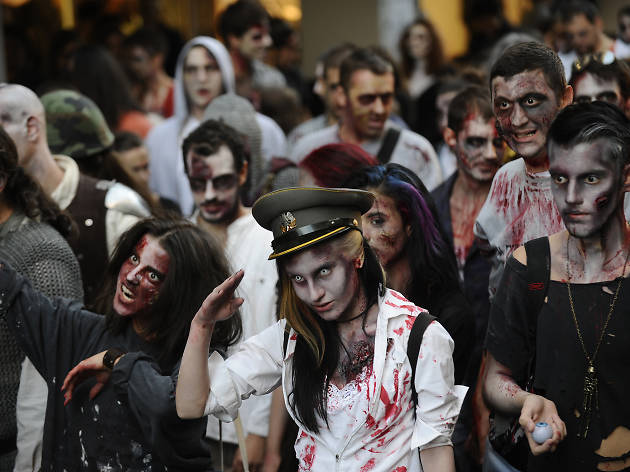 Over 1000 people will be wandering about, dressed up as carnivorous zombies at this Zombies' Walk. A good opportunity to walk down the Rambla towards Boulevard Club, where you will have the chance to dance all night through. All that liven up with drinks: Fun 100% guaranteed!
2. A costume night in the best clubs of the city Dancing in a costume until dawn
Most clubs join the Halloween celebration. You will have the chance to wear your best costumes (let's rather say the most terrifying ones) and give it your all at the dance floor at the best clubs of Barcelona. We recommend:
Razzmatazz which offers the Razzlloween party, where you'll discover famous DJs while celebrating Halloween. Entry costs around 20€ and the first drink is included.
Pachá another well-known club in Barcelona located on the beach front, offers a 100% Halloween party, where you are invited to come dressed-up. Entry before 2 am is around 15€ and the first drink is also included.
Many other popular clubs in the city, such Shôko, Opium, Catwalk, Sala Apolo… hold parties on 31st October. There are plenty of choices, so don't stay home!
AND IF YOU DECIDE TO STAY AT HOSTEMPLO DUE TO THE RAINY WEATHER FORECAST… WE ALSO HAVE TERRIFYING PLANS FOR YOU!
For those working or who are not brave enough to face the demons and witches on the streets of Barcelona, here is a list of three Spanish horror films, perfect for a Halloween party at home, be it alone or with friends.
REC
A true gem of Spanish cinema. This film from 2007 by
Jaume Balagueró and Paco Plaza follows the blair-witch project
technique, placing the viewer in the center of the action in a particular way: via first-person filming. It makes the viewer feel to be watching a real documentary, exalting realism. Both directors present an extraordinary horror film, which has been
awarded at the Sitges International Film Festival and Goya awards.
EL ORFANATO (The orphanage)
This film will freeze your blood: directed by
Juan Antonio Bayona
, it's based on a
true story
that will not leave you indifferent.
Far from the scenes of bloody crimes, this movie takes place in an
old orphanage
with a very particular atmosphere, worth of a haunted house. While Laura comes to refit the old building to allow reopening it, her son
starts seeing things he shouldn't
, including the
ghost of a small boy
. Although nobody listens to him,
panic breaks out when the child disappears.
EL ESPINAZO DEL DIABLO (The devil's backbone)
Along the same lines as before, this film is not scary because of bloody scenes or massacres. Again, it's more about the atmosphere that may
send shivers down your spine
.
This movie is directed by
Guillermo del Toro
and takes place
during the Spanish Civil War in a Catholic institution
for orphans. Carlos, a 12-year-old boy who has just arrived at the orphanage and faces the hostility of his new classmates, discovers
strange things are happening
and that, sometimes, not all ghosts are evil.
Do you already know what to do the most terrifying evening in the year? You know that, at Hostemplo, we will make you feel home! We offer you suites, rooms and apartments to feel like home. And remember, if you book through our web, you'll have breakfast included during your whole stay.
Book your next stay in Barcelona with us!