In August, with the peak summer season, the most eagerly awaited celebrations for all Barcelona citizens take place: the annual neighborhood festivals; the ones at Gracia and Sants districts are with no doubts the most popular ones. If you haven't had the chance to visit them yet, get all the details now! Do you want to enjoy Barcelona in August as if you were a local? Follow us! We are going for a walk through the popular celebrations in the city.
1. FIESTAS DE GRACIA (GRACIA NEIGHBORHOOD FESTIVAL) 2016: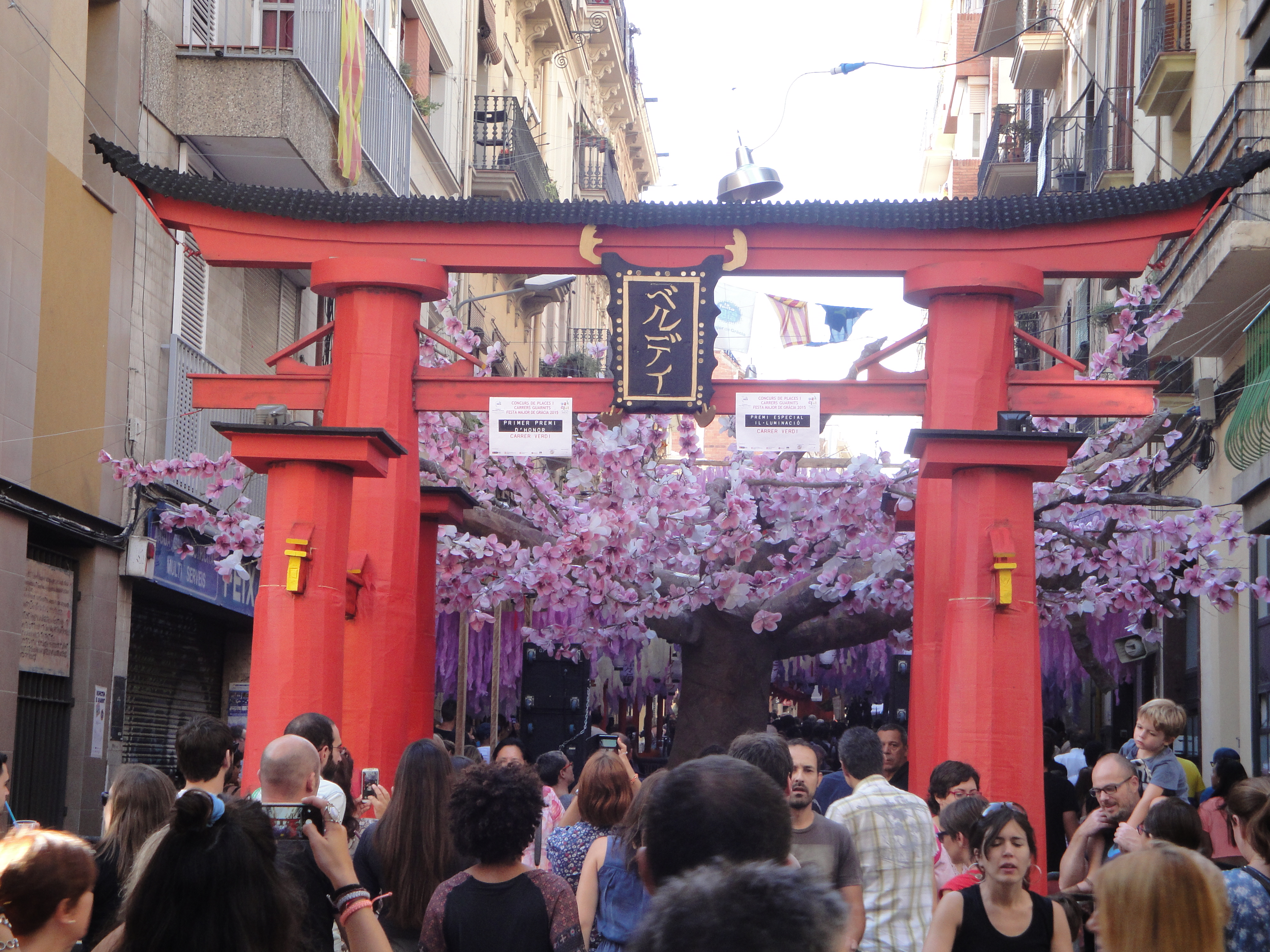 Verdi Street, winner of fiestas de Gracia 2015 – Photo nosolocine.net
Decorated streets, live music, popular meals (sardine barbeque, butifarra -Catalan sausage-, snails…) children activities, … does it sound appealing? All this and much more is what symbolize the Gracia annual neighborhood festival. In case you still don't know, take good note on your calendar! This year, the Gracia festival takes place from 15th to 21st August. It is the most iconic neighborhood festival in the city and it has been declared Traditional Festival of National Interest by the Generalitat, and awarded with Saint George's Cross (Creu de Sant Jordi.)
Gracia's Festival is relatively recent, as well as the neighborhood's history itself, dating back to the beginning of the 19th century, when the farming society evolved into a combination of artisans, workers and small merchants. Even though, this festival has by itself become one of the most renowned and awaited celebrations in Barcelona's calendar. There are plenty of activities taking place during the whole festival, particularly the weekdays, morning and afternoon, offering alternatives for all likes and ages.
MAIN ACTS AND ACTIVITIES:
The festival starts on the 15th of August with the classical announcement at plaza de la Vila at 11; grallas (traditional Catalan double reedinstrument in the shawm family) will play, some will take part in a popular bike ride and almost every neighbor will have had their "obligatory" breakfast underneath their beloved street's ornaments.
From that moment, the Gracia festival calendar is full of traditional acts such as the Sant Roc's cercavila, the castellers (Catalan "human towers"): the most agile climbers xiquets will go up in the sky, with the collas (castellers climbers group) from Reus, Vilafranca and the locals from the Vila of Gràcia participating. It is such a spectacle not to be missed if you've never seen castells before. And, of course, foam party, xarangas (charanga bands), soaking the kids with hoses, water balloons, etc. and all kinds of activities for the elders: cards, domino and the young: street concerts at the main squares.
One of the major attractions of the festival are the free concerts organized every year by Sala Heliogàbal, also known as Festigàbal , counting on groups like Bigott, Los Mambo Jambo, Da Souza, Futuro Terror, Les Sueques and Los ganglios this year, on the 18th and 19th of August.
2. SANTS NEIGHBORHOOD FESTIVAL 2016:
Alcolea de Dalt Street, winner of fiestas de Sants 2015 – Photo naciodigital.cat
If you are not in town for the Gracia festival, the Sants festival takes place right the week after, the last week of August. Nothing to envy to the Gracia festival, they are very similar and are improving each year. Both Gracia and Sants are indeed two districts with a flawless neighborhood atmosphere. As TimeOut already stated last year: 'The level is getting higher and higher in Sants, with its decorated streets improving year after year'. And if we take into account that the author of this post has been brought up in Sants…what else! Let's go for a walk through the Sants festival!
In Sants predominate correfocs, dances with bands, performances of the most lively festival associations, popular meals and the concerts of the Festa Major Alternativa (fringe festival); thanks to previous years success, they have a big attendance and count on their own programming, organized by the neighborhood association (Assamblea del Barri). The fringe festival takes place from 23rd to 28th of August at Parc de l'Espanya Industrial, where we will have the opportunity to enjoy Troba Kung-Fu this year, playing on Thursday 27th of August at 21h.
Including two full weekends this year, the Grand Opening of the festival will be on Saturday 20th of August from 22:00h. The festival consists of a bundle of over 500 activities of all kinds and for all likes, spread around the different streets, parks and squares of this historic district of Barcelona.
3. OTHER CELEBRATIONS AND THINGS TO DO IN BARCELONA IN AUGUST: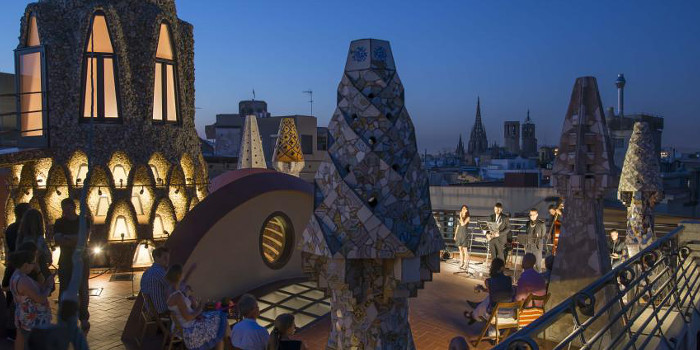 Nights at Palau Güell – Photo palauguell.cat
In case you don't know, August is full of interesting activities to enjoy 200% Barcelona. Find some of them below:
Festes de Sant Roc 2016 (Sant Roc Festival 2016):
The annual festival of the Gothic Neighborhood, it is the oldest festival in the city, as they are held since 1589 every year. As it used to be at the middle age markets, there will be plenty of activities and artisans' stands during the five days that this legendary event takes place. Like every year, at Sant Roc Festival there will be activities for children, meetings and dances, sardanas, correfocs much more. The opening will be today, 12th of August!
Nights at Palau Güell:
The third edition of Las Noches del Palau Güell (Nights at Palau Güell) once more, opens every Thursday, until 18th of August, the doors of this building, where architect Antoni Gaudí conceived chimneys as architectonic sculptures for the first time.
A musical evening including a live concert with bands of various styles, where we will be able to see diverse people like Amélie Angebault Quartet (4th of August), The Oldians (11th of August) or the Polo Prats Quartet with Agustín Burriel, closing the edition on the 18th of August. 
Summer nights at CaixaForum 2016:
CaboSanRoque lands on Summer Nights at CaixaForum with a whole collection of sound machines, to create a garden full of mechanical nymphs inviting us to go across, discover and listen in every corner of the old Casaramona factory. And that's not all, at CaixaForum, activities are a dime a dozen, so check your calendar and sign up, you'll be surprised!
We recommend you to have a look at TimeOut's selection for August in Barcelona, and to revise our precious posts about refreshing plans for summer in Barcelona. And also, if partying so much and walking around makes you feel exhausted, maybe you deserve a good rest. You can find us at Hostemplo, your best choice for accommodation in Barcelona. Remember! If you book through our website through our web, you'll get your breakfast for FREE!!