Did you know that there are over 40 markets in Barcelona? It's true! For that reason, from Hostemplo, we would like to recommend those market to put a must visit on your list. History, gastronomy and the best fresh products blend in markets such as La Boquería or Santa Caterina; so if you want to have a unique experience and taste what locals eat, don't miss our list! 'Wanna eat like common people? Ok, I'll see what I can do!'Wanna eat like common people? Ok, I'll see what I can do!'
1. LA BOQUERÍA MARKET: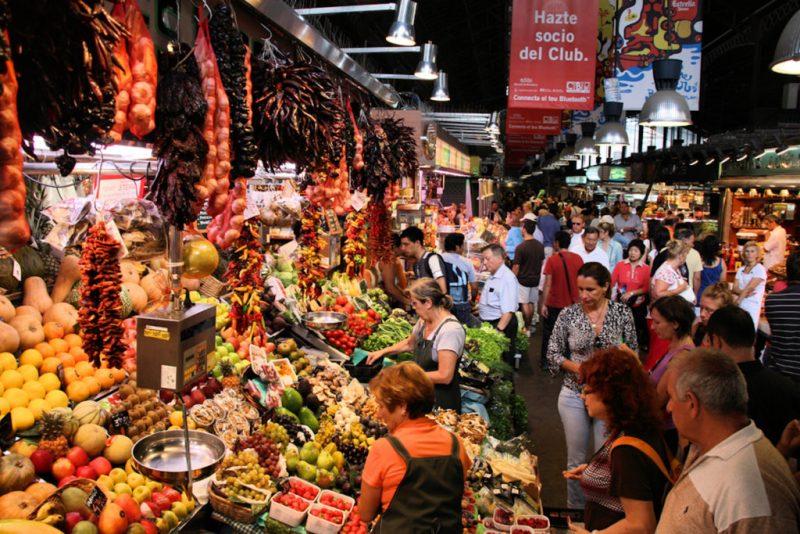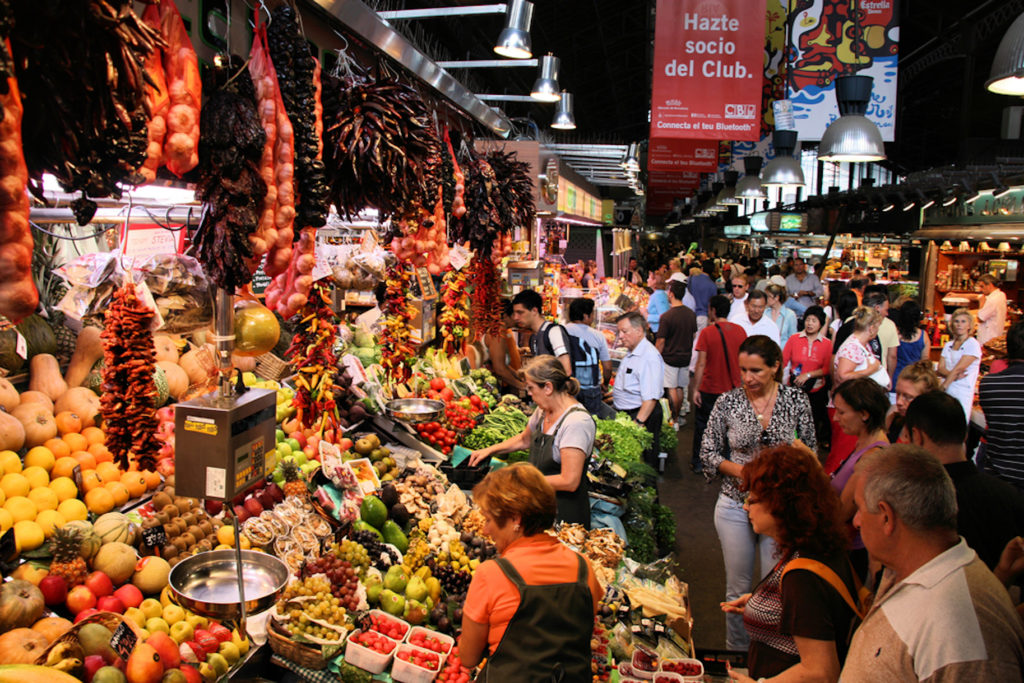 La Boquería market – Photo from Blog oneholidayrentals.com
It is probably one of the most popular markets internationally. That's why it is the first one on our list. The Mercat de la Boquería is actually called Mercat de Sant Josep and stands out for its clear modernist style. Opened in 1840 and open-air, right in front of the old Sea Gate (Puerta del Mar) of the medieval Barcelona, it used to be the perfect place for fishermen, farmers and other traders to sell their fresh products. However, the trading environment is not as peaceful as it may appear, and after various incidents, the market was built on the open area left by the rests of an old convent at Carme Street, where it currently is.
Something special to highlight from la Boquería is definitely the great atmosphere with thousands of stalls and colors, but above all, the quality of the products sold there. It might be one of the most expensive markets in Barcelona, and also one of the most visited, and worth visiting! And, if you feel hungry after seeing so many food stalls and so beautifully decorated, no worries! Just pop in at El Quim de la Boquería or Bar Central de La Boquería, two classics to enjoy some of the best tapas.
2. SANTA CATERINA MARKET: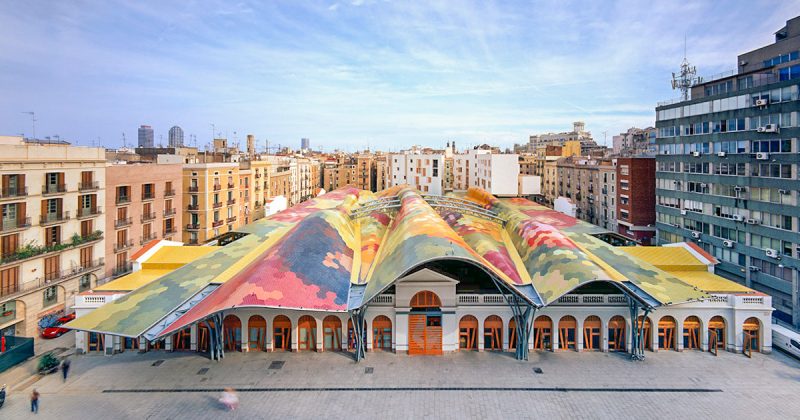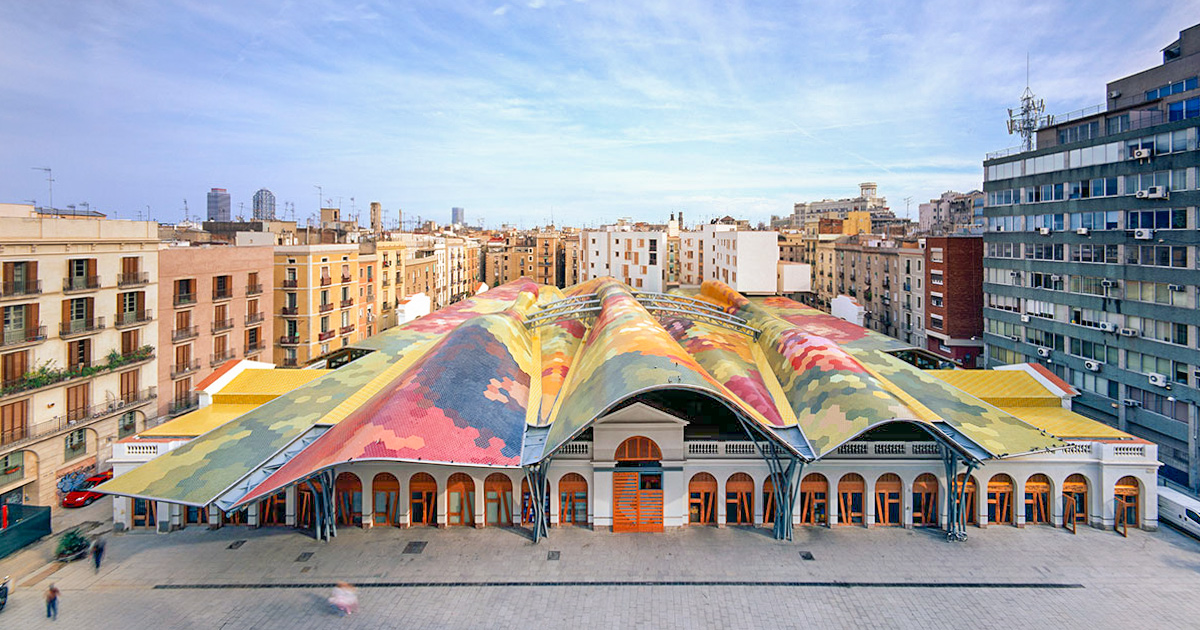 Santa Caterina Market – Photo from Meet.barcelona.cat
It is with no doubt one of the most remarkable markets in Barcelona. From the cathedral, you may see its vibrantly colored, undulating rooftop but would never guess it is a market. Well, in effect, you're pretty close to the Mercat de Santa Caterina. This modern façade, built in 2005, when the remodeling of the market was finished, welcomes the visitor to a market full of history. The old Santa Caterina food market presents, after the remodeling carried out by the architects Enric Miralles and Benedetta Tagliabue and their team, a vibrant, undulating and colorful rooftop, designed to be observed from the air. A wooden structure joins together the roof and a huge colored ceramics mosaic representing fruits and vegetables, and makes a bold break with the traditional market concept.
Actually, this market always stood out for its innovative spirit. Santa Caterina market was born in 1845 to provide the working-class people in the neighborhood with food. The market building, modern and spacious, was built where a former convent had been, Santa Ceterina's in this case. During the post-war period, Santa Caterina turned itnto the supply center for the inhabitants of the towns around Barcelona; people from Sant Adrià, Santa Coloma or Mataró used to travel by tram to the neighborhood to shop at this market during the shortage periods.
Today, Santa Caterina is a must-visit: modernity welcomes the visitor from outside and leads to a traditional market in the interior, with food stalls, as we have always known them. Nearby, you will find restaurants that stand out for the quality of their products. If you are around, you can't miss Cuines Santa Caterina or the amazing Italian OBE restaurant!
3. BORN MARKET: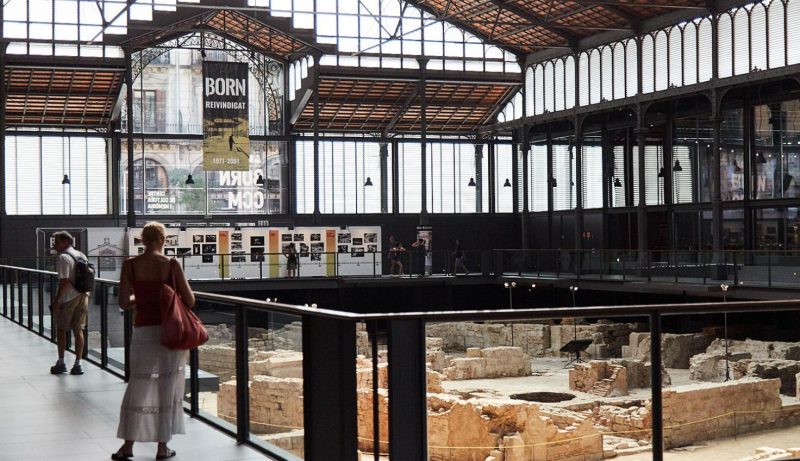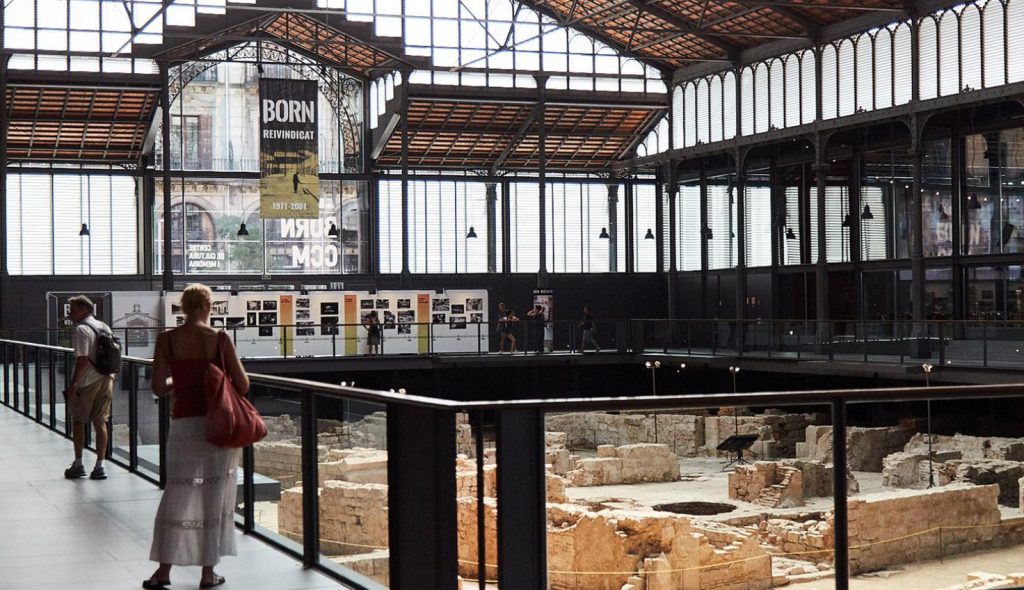 Born – Photo from Barcelona Travel Experience
The Mercat del Born has also been remodeled recently; you are right, back in 2013. During the remodeling process, a cultural center has been integrated in the market, why? Well, as you can see on the picture, several ruins of a high historical value for Barcelona were found just as the works began. Therefore, it was decided to preserve them and open a cultural center with guided tours to explain, through this remains, what life was like for Barcelona inhabitants in the Middle Age.
Also, together with the market remodeling, all the surrounding streets have also been refitted, which makes this area, also known as Born (Borne in Spanish) a proper must visit: trendy stores, fashion, chic restaurants and much more to discover in this part of the city.
The cultural center has various activity areas, including a gastronomic area, as well as an event venue. One of the spaces, as we mentioned above, hosts a museum with the details of the archeological findings in the old market's foundation, which can be visited; really worth it!
4. SANT ANTONI MARKET:

Sant Antoni market – Photo from Ginabarcelona.com
The Mercado de San Antonio, built in 1882 by Antoni Rovira i Trias, is one of the most emblematic buildings of the iron architecture in Barcelona. For those born and grown in Barcelona, it is full of memories as kids, teenagers or adults, ex-changing comics, buying second-hand books…and of course also food! It is now under construction and the remodeling design outlines the full renovation of the historic building and the construction of underground floors to host a new commercial area, parking and facilities. The four open courtyards will turn into public squares, embracing the archeological remains of the old bastion of San Antonio, part of the city walls dating from the 17th century.
The works are expected to be finished in 2017, although there is no information about the deadline; nevertheless, we encourage walking by, in front of a master-piece-to-be. Also, because of its location: Sant Antoni, the left part of Barcelona's Example is becoming increasingly trendy. Very close to the market, you can find Parlament Street, definitely a must-visit for a vermouth and tapas trail!. Bars such as Calders or Els Sortidors de Parlament will not leave you indifferent; and, if you'd rather go for top cuisine, Tickets is pretty close, 10 -15 minutes walk.
Last but not least, we would also like to mention other markets such as the Mercat de la Barceloneta, located in the legendary fishermen district of Barcelona, el Mercat del Ninot, remodeled in 2015 and located at the Example; the Mercat de l'Abaceria Central, located in Gracia or, also recently refitted, the Mercat de Sants. As we already pointed out at the beginning of the article, there are over 40 markets in Barcelona, making all of them a total of over ten thousand fresh products stalls.
Did you find it interesting? What about getting accommodation close to one of these markets? At Hostemplo you'll feel like home. Have a look at our hotel and hostel rooms; if travelling with the whole family or seeking some privacy, we suggest one of our apartments instead. We offer various alternatives to better suit your needs. And remember! If you book on our website, you'll get FREE breakfast for your first night. What are you waiting for?