Let's go on an adventure. Does it sound good to you? In our blog, we've taken you on cycling tours, culinary tours, cultural routes, … on foot, exercising. But we had not taken you by air yet. Today, we hold your hand to let you see the city from a bird's eye view. Discover Barcelona from the air! Let's go! We have choices for all budgets.
BARCELONA ON HELICOPTER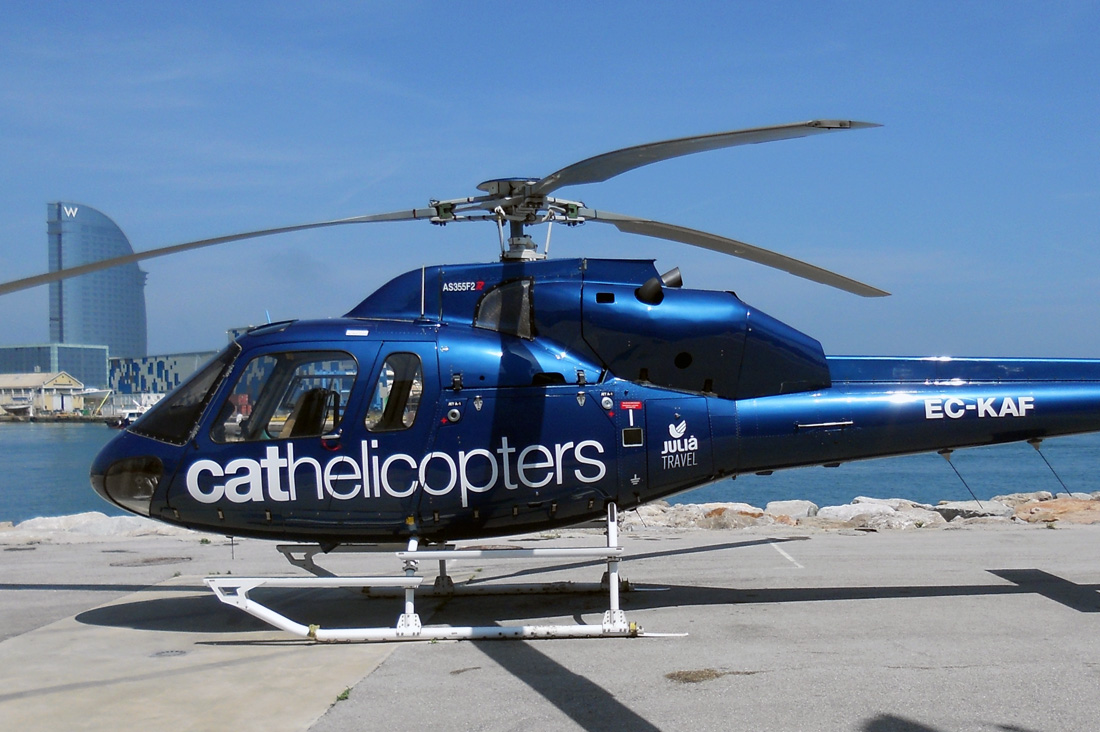 Photo by cathelicopters.com 
If you like extreme experiences, this is for you! Fasten your seatbelt and get ready for one of the most extreme adventures. Barcelona has a lot to offer from the sky.
There are various flights and tours available. We recommend:
City center tour:
Enjoy a panoramic flight that will allow you to discover the main attraction of the city from a new perspective:
Sagrada Familia
Park Güell
Camp Nou (Barça Stadium)
Barceloneta beaches
Olympic Port
Agbar Tower
Olympic Stadium and surroundings
Tibidabo
Diagonal Avenue and Eixample
Montjuïc castle
Pretty comprehensive, isn't it?
Barcelona Coast Tour:
Don't miss the opportunity to experience a helicopter trip over the city. Discover Barcelona's coast and its most popular landmarks! Have a day full of adrenalin and emotions with this awesome trip. What will you see?
The Port
The World Trade Center
Colombus monumnet
Maremágnum
Barcelona's beaches
The Barceloneta
The Olympic Port and Village
Fórum
Besós river's mouth
Ideal for sea lovers!
Helicopter Tour over Montserrat: 
It is the most comprehensive tour you may imagine. The route starts at the Olympic Port in Barcelona to head to the Forum. From there, you will fly over Diagonal, pass by Camp Nou and Montjuic to continue along the coast towards Montserrat. After overflying the Montserrat monastery, we head back to Barcelona following the seaboard. Discover all the nooks and crannies of the enigmatic mountain of Montserrat! A 35-minute trip you will never forget!
Information of interest:
Duration: this type of helicopter tours have an estimated duration of between 10 and 40 minutes.
Companies: yumping.com and cathelicopters.com.
Prices: it goes from 50€ hasta to as much as you wish to spend. Some of these companies offer catering services, etc.
More information: the service usually includes shuttle from and back to the hotel.
BALLOONING BARCELONA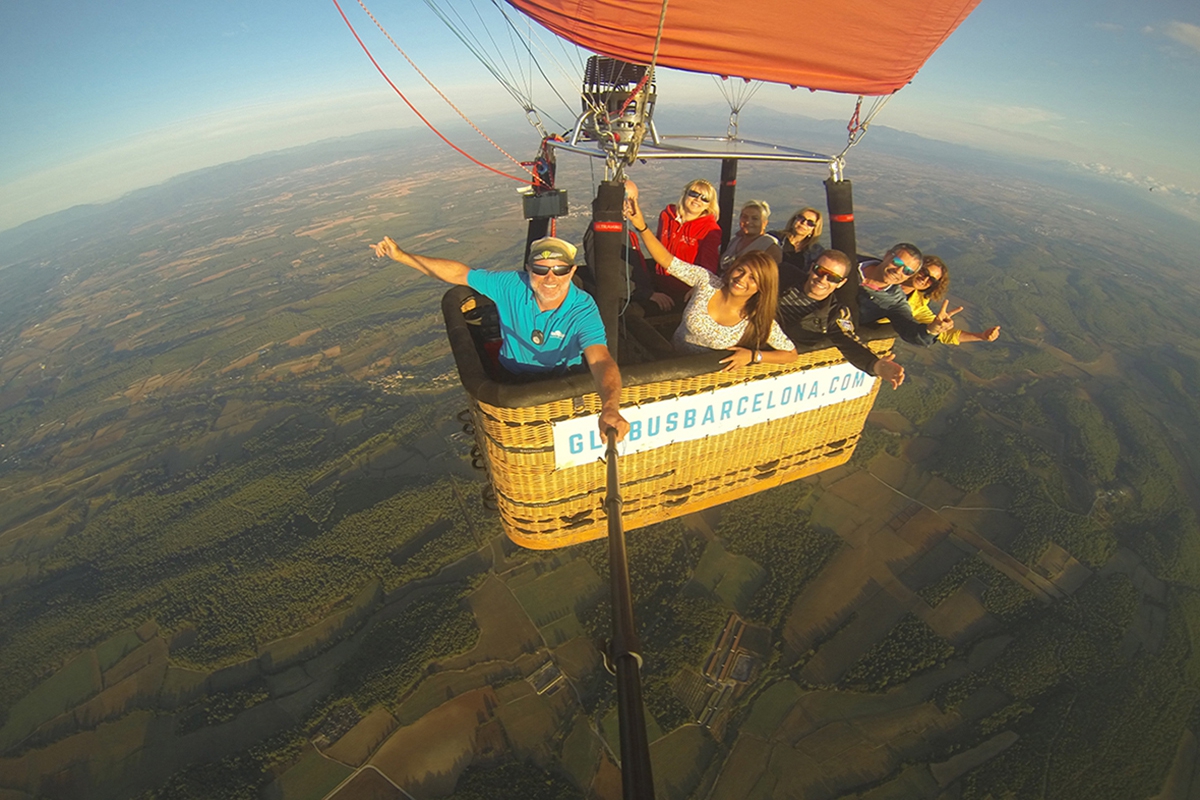 Photo by globusbarcelona.com
What if we make it broader? Would you like to see Catalonia from the air? Let's get on a balloon and discover Barcelona in a Willy Fog's style!
If you want to surprise someone or experience your stay in Barcelona in a different way, we do recommend this option. It is with no doubt a unique frenzy experience. This trip starts in Barcelona city center, from where you will be taken to the place where the balloon ascends, near Montseny Nature Park.
You may enjoy incredible views of:
Montserrat
The Pyrenees
The Montseny
The Mediterranean sea
Information of interest:
Duration: This type of balloon tours have an estimated duration of between 30 minutes and 2 hours.
Companies: viator.com, ballooning.es
Prices: It may vary according to the route and the season. You may find balloon trips around Barcelona from 80€, but prices usually go from 120€ to 200€.
More information: the service usually includes shuttle from and back to the hotel. Plus, you may round it off with a stopover, an excursion or a lunch or dinner accompanied with cava.
BARCELONA CABLE CAR

Photo by pixabay.com
Going on a lower budget? No worries! As we said before, we have plans for all budgets. You'll love this one if you are travelling with children.
Get on the recently renovated Montjuïc cable car and enjoy an unforgettable trip with the whole family. From the cable car you may enjoy a unique view of Barcelona's coast from the air. You will also see the whole Montjuïc mountain and the Port.  A perfect plan for the whole family!
More info: www.telefericodebarcelona.com
AND MORE… THE MOST ORIGINAL ONES!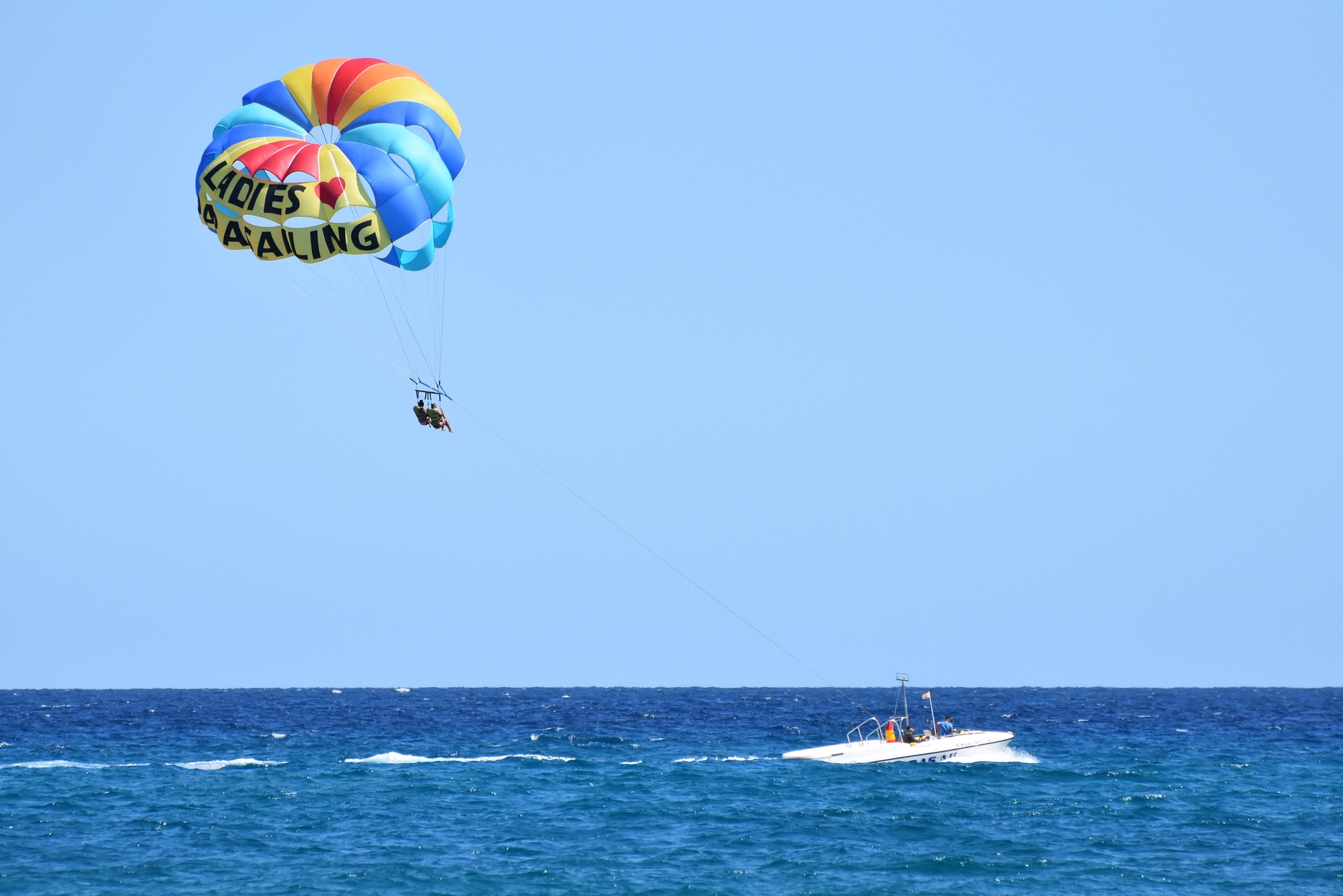 Photo by pixabay.com
Parasailing:
If you are really adventurous… you'll love the parasailing option. Do you know what it is about? Parasailing is an activity in which a person is held by a parachute overflying the see, at an approximate height of 100 meters. Does it sound interesting?
Parachute jumping:
Jump! If you want to feel an adrenaline rush, juuuummmp!! Bird's eye views over the city, making you feel like a bird. For the brave ones!
More info: skydivebcn.com
And, after releasing so much adrenaline… you deserve a good rest! Both if you are looking for a room or an apartment, we have what you need! Remember, if you book through our web, you're invited for breakfast everyday of your stay! Come to Hostemplo, we will look after you.